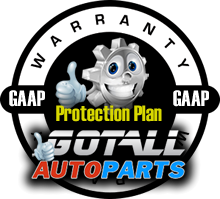 NO FAULT GUARANTEE POLICY – 5 year unlimited mileage
In the event there is a problem for any reason. Our staff will work with the customer to make sure it is corrected in a timely fashion. This includes goods damaged in shipping, improper installation of converter, other vehicle defects that contributed to the problem are all covered under this policy unless purposefully done. – In the event of a transmission failure Got All Auto Parts will inspect, repair, or replace the purchased unit whichever is necessary. We are one of Nations leaders in the industry with a less than 5% failure rate statistically within the warranty period.
IMPLIED WARRANTY
There is no implied warranty of merchantability or fitness for a particular purpose. Rebuilt Transmission Supply.com obligation under this warranty is limited to the repair or replacement of its products. There are no warranties that extend beyond the description on the face of this warranty. Rebuilt Transmission Supply.com will not be responsible for incidental or consequential damages, property damage or personal damages to the extent permitted by law. If there is, by law, an implied warranty of merchantability and/or fitness, they are limited to the warranty term set forth above and start from the date of the original purchase.
This warranty is subject to the following: rebuilding of transmissions will be limited to replacement of all friction materials, gaskets and seals, and hard part damage. All of our units are fully tested.
Please note that all Rebuilt Transmission Supply.com transmissions or converters must be operated with a transmission cooling system that is in addition to the stock radiator-type cooler. Called an Aftermarket Auxiliary Transmission cooler.
Also, very important that the torque converter is installed properly and all the way onto the pump gear. If for any reason it isn't, the transmission will not move. Contact us for further information regarding proper installation of torque converter to ensure no damage to pump gear.
MERCHANDISE RETURNS
In order to provide better customer service, we require prior approval before a customer returns merchandise for warranty or for other reasons. To obtain a Return Material Authorization (RMA), contact us. All merchandise returned to us should be sent freight prepaid, and delivered to the address listed here. Rebuilt Transmission Supply.com is not liable for any taxes or duties associated with international shipments. Items returned for credit must be in perfect condition.
You must also include, inside the package, your name, address, phone number, fax and/or other contact information, along with an explanation of the problem and work to be done. This contact information is important because it allows us to get in touch with you concerning your parts.
REFUNDS
Customer is entitled to refund on stocking units only.  Special order units are non-refundable unless there is evidence of a problem internally with the part.  Customer has right to return product within 7 days and is entitled to full refund, less 25% restocking fee, upon successful return of product in its original condition.  No refund for missing items, misrepresentation of product.
IMPORTANT NOTICE
This Website has been completed using our best efforts. We assume no liability for errors contained herein.
Prices on all products are subject to change without notice. We reserve the right to make changes in products at any time.
Except as noted, products in this catalog may not be legal for sale or use in pollution-controlled motor vehicles (pre-1966 domestic vehicles certified to California standards, pre-1968 domestic motor vehicles certified to federal standards.)